As a nephrologist, you probably enjoy an income somewhere between $80,000 and $266,000 per year. That income goes to help build a successful medical practice, and it also supports your family.
What would you do if that income were reduced, or even eliminated entirely, though? That's exactly what can happen if you suffer a disability, making nephrologist physician disability insurance a smart choice.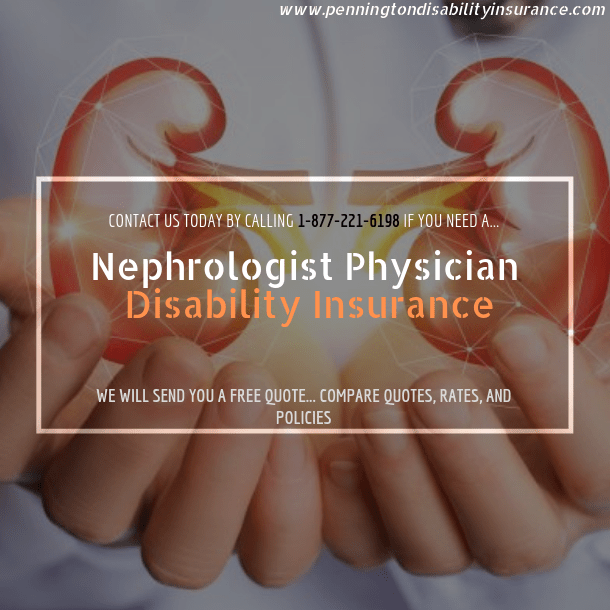 Will You Suffer a Disability?
Few of us are honest enough with ourselves to really admit the true likelihood that we'll experience a disability. To put things in perspective, understand that someone who is around the age of 40 right now, has a 21% chance of suffering through a minimum three-week disability by the time they turn 65. That applies across the board, regardless of your health and wellness, medical history, family history and other factors.
We are all at significant risk for suffering a disability. The problem is that when the worst happens, you have no recourse to replace your lost income. Health insurance, life insurance, auto insurance – none of these will help replace your income, leaving you, your practice, and even your family at risk.
How will you make your mortgage payments? How will you pay your employees? How will you pay for your children's education, or your own school loans? These are just a few of the implications of lost income due to a disability.
The Role of Nephrologist Physician Disability Insurance
Disability insurance comes into play when you've been unable to work for a specific period of time, and pays a percentage of your usual monthly income for a specified duration. Of course, there are quite a few insurers, and many variables that can change your situation. Our goal is to help you navigate these murky waters and make an informed decision that ensures you and your family are protected should the worst happen.
We help you compare not just rates, but insurance providers, coverage options and more – guiding you to the best fit for your needs and goals. Contact us today by calling 1-877-221-6198 or using the form on this page.