If you're a Certified Registered Nurse Anesthetist (CRNA) and are responsible for some or all of the monthly expenses of your home and family, you should consider purchasing a personal disability insurance or disability income protection policy.
Why Choose A CRNA Disability Insurance Policy
You may think that as a health care professional, you know how to take care of yourself to be healthy enough to continue working until at least you reach the regular retirement age. However, what if there are unavoidable health risks that affect you right there in your workplace? What if you're injured outside the workplace and unable to bring in any income due to a prolonged illness or a lengthy recovery time from an injury?
One of the Most Health-Damaging Jobs
Did you know that Certified Registered Nurse Anesthetists have one of the highest risk for becoming disabled? In fact, CRNAs together with anesthesiologists and nurse anesthetists are among the most health-damaging jobs based on data from the U.S. Department of Labor's Occupational Information Network (O*Net). This means that if you are a CRNA, there is an imminent risk of you being unable to go to work at some point in your career.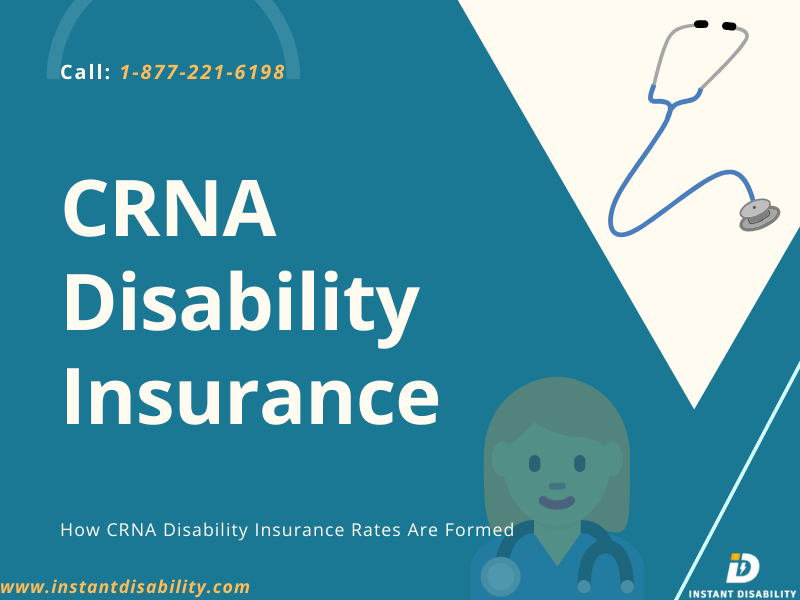 The list of health-damaging jobs was based on the analysis of exposure and risk to the following: disease and infection; radiation; hazardous conditions; minor burns, stings, cuts, and bites. Each risk factor had O*NET scores from 0 to 100 with a higher number indicating the higher health risk.
Exposure to the following health risks, with their corresponding O*NET scores, came out as the top concerns for CRNAs: disease and infections (94), contaminants (79) and radiation (71.8).
Exposure to these workplace health risks could lead to cancer, heart disease, and other illnesses that cause the majority of short and long-term disability. In fact, for CRNAs at or over the age of 40, your chances of experiencing a disability before you reach the age of 65 that lasts at least three months are 21% or approximately 1 in 5.
Those are long odds. Can you really afford to take a 1 in 5 chance that you will be unable to provide for your family? What will happen if you're unable to earn an income during the recovery period from an injury or illness? Workers' compensation only applies to injuries sustained on the job, but any of the diseases, illnesses, and injuries to which you are exposed or subject can come from outside the workplace just as easily as within the workplace. That's why having CRNA disability insurance is so important. It will provide you with the protection other disability insurance policies won't.
Other Types of Insurance Won't Protect You
Although there are other types of insurance policies available to you, it's rare that these provide the financial support a disability insurance policy does. You cannot count on your worker's compensation, health insurance, auto insurance, or any other form of insurance to provide you with income in the case that you're sick or injured and unable to work. Yes, your health insurance will pay for testing, doctor's care, medications, and even hospitalization if necessary. Yes, that's vital for your long-term recovery and well being. However, it does little to offset the financial pressure you'll face if you're unable to bring in your regular pay.
CRNA disability insurance can help you overcome these issues and provide you with the protection you deserve and the peace of mind you need while you're recovering from your injuries.
Protect Your Income
As a CRNA, you probably make between $77,000 and $197,000 per year or more. You probably also have significant expenses each month – your home mortgage payment, tuition for your children, and school loan payments for yourself. Insuring your CRNA income is one way of making sure that you still get a partial or total replacement of your much-needed income. It is also like a savings protection plan because you won't need to use your savings to meet your financial needs during your disability period.
CRNA disability insurance is designed to provide you with a source of income to offset this loss and help ensure that you're able to meet your financial obligations without draining your savings, or otherwise putting your family in dire financial straits.
Choosing Your CRNA Disability Insurance Provider
Interested in the benefits that CRNA disability insurance can offer, but not sure where to start? We can help. We have years of experience under our belt, and we've built strong relationships with the top-rated insurers in the insurance space within the United States.
In choosing the best disability insurance policy, you should consider the following major factors: type (short or long term), the key insurance benefits and cost of the policy. This may take up much of your time. It is to your advantage to choose a disability insurance provider that:
Helps you review rates from the leading providers of individual disability insurance
Provides quotations from all the major disability insurance carriers so you'll have many quotes to compare
Helps you learn more about the options available to protect your CRNA income
How CRNA Disability Insurance Rates Are Formed
Insurance companies group occupations into specific classes based on documented risk for a particular job. These classes look at the hazards of your job and the difficulty returning to work following a long or short-term disability.
Insurance companies typically classify professional occupations on a scale of 1 to 6 and many use the letter M to designate medical professions. Typically, the higher the numerical value of the classification, the lower the premium rate will be.
When you review disability insurance policies, it's important to understand what medical specialty you are being classified as. The difference in rates can be substantial if you're not classified appropriately, so make sure you understand how and where your job is classified.
We want to help ensure that you have the protection you need. Contact us today at 1-877-221-6198 or use the form on the right to request a quote. We'll help you find the answers you need, and the financial stability you deserve.
Related Posts: