Whether you own your own business or work for a company or a general contractor, becoming an electrician can be a rewarding career option.
In addition to a wide range of work environments and options, you likely earn between $26,000 and $71,000 per year. Of course, that income goes toward paying your family's financial obligations.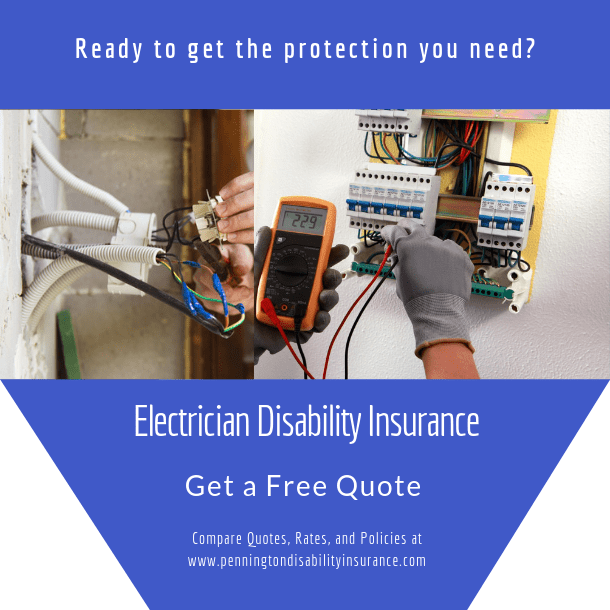 You'll need to pay for your rent or your house payments. You'll have to pay for your vehicles. You'll also have to pay for utilities, and more. You may also have licensure requirements, ongoing training, or even business-related costs. Any lapse in income could mean meeting those obligations is difficult or even impossible. Electrician disability insurance helps ensure you don't experience such a lapse.
Worried about Disabilities?
Not concerned that you'll be affected by a disability? You're not alone. Most American workers feel that they will be unaffected, but the truth is that nearly one-third of all workers will experience a disability that keeps them from working at least once before they retire. In fact, you have a one in five chance of experiencing a disability that lasts at least three weeks before you turn 65. Electrician disability insurance can offset the implications of those statistics.
It does this by providing you with a stream of income if you experience a qualifying disability. Your insurer will pay you a percentage of your average monthly income, and you can then use that money to pay what you need, from your car insurance and utility bills to your home's mortgage payment.
Finding the Right Solution
Of course, not all electrician disability insurance policies are created equal. Some are highly beneficial. Others are highly restrictive. Some are flexible, others are rigid. You need to make an informed, accurate comparison before purchasing a policy. We can help you do that – we specialize in providing professionals just like you with the ability to compare disability insurance rates, policy terms, inclusions, benefit amounts and more.
Ready to get the protection you need? Call us today at 1-877-221-6198 or use the convenient form located on the right side of this page.