If you're a physical therapist, chances are good that you are responsible for paying the lion's share of your family's monthly financial obligations. It makes sense to protect that ability through physical therapist disability insurance.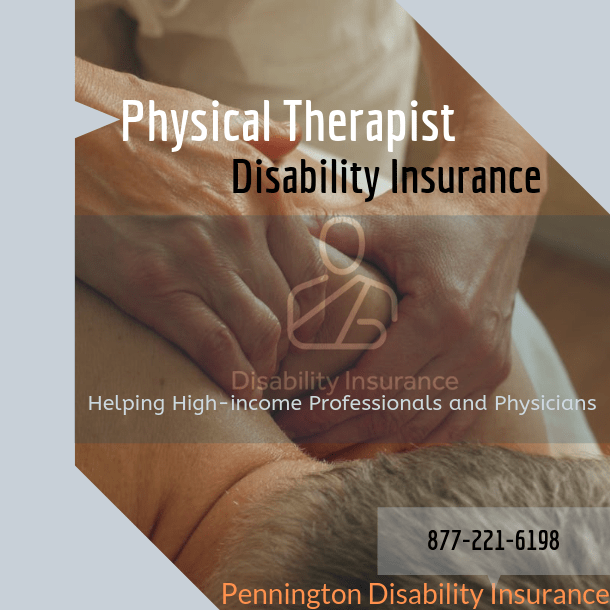 What Is Disability Insurance?
It's important to understand the role that physical therapist disability insurance plays – it's designed to provide you with financial coverage should you find yourself out of work due to an injury or illness, and unable to pay your bills. You won't find that capability with your car insurance, your health insurance, or any other insurance coverage you currently have. Chances are also good that you do not have disability insurance through your employer. In short, you're missing a vital form of protection.
Why Do I Need Physical Therapist Disability Insurance?
The need for disability insurance is plain – you have no means to meet your financial obligations if you find yourself sick or injured, and unable to work. Sure, you have sick time and vacation time, but that will only help for a short period. Worker's compensation will also not help, as most disabilities occur outside the workplace.
The Case for Physical Therapist Disability Insurance
As a physical therapist, it's likely that you earn between $51,000 and $88,000 per year or more. A great deal of that income probably goes to your house payment, school tuition, car payments, and the like. Physical therapist disability insurance allows you to safeguard your ability to meet those financial obligations.
With our help, you can:
Compare rates from top-ranked disability insurance companies.
Get quotes from trusted insurance companies across the US.
Learn what you need to do to protect your income, your family's financial stability, and your peace of mind.
If you're near the age of 40, there's a one in five chance that you'll sustain a disability that lasts three weeks or longer before you reach the age of 65. That's frightening. It doesn't have to be that way, though.
We can help you find the right physical therapist disability insurance for your specific needs. Call us today 1-877-221-6198 or use the convenient contact form we've provided on this page to get in touch with us.