Why You Need Disability Insurance
Working as an anesthesiologist assistant? If so, chances are good that you have significant monthly expenses that might go unpaid if you became disabled. Mounting bills and unpaid debts can dramatically reduce your quality of life and peace of mind, to say nothing about what it does to your financial situation and stability.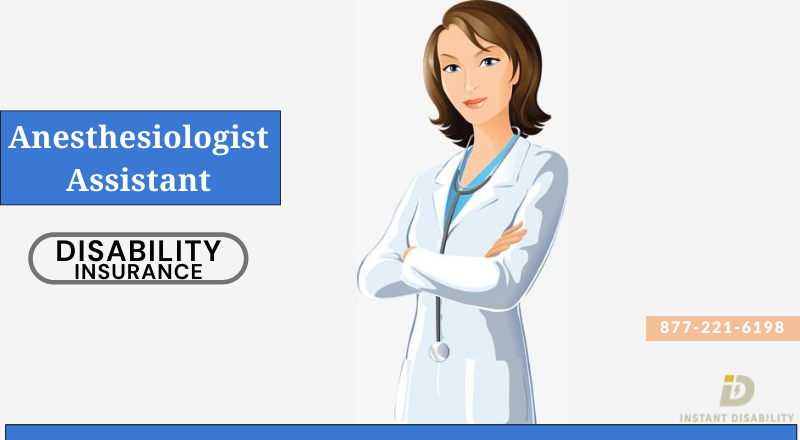 There is a solution though – you can protect yourself and your family by purchasing an anesthesiologist assistant disability insurance policy.
Your income matters
As an anesthesiologist assistant, you probably make between $85,000 and $150,000 per year or more. You may have large monthly expenses as well, such as medical or nursing school loans, a home mortgage, and perhaps private school tuition for your kids. Add to that at least one car payment (but more likely two), the cost of homeowner's insurance, and other financial obligations, and you begin to see the need for anesthesiologist assistant disability insurance. In fact, insuring your nurse anesthetist income is really just part of a sound financial plan.
You're Likely Not Protected
Think you already have disability insurance? Chances are good that you're wrong. Worker's compensation only covers injuries and accidents in the workplace, or that occur while performing job duties. Your auto insurance will only cover medical bills, rehabilitation and the like. Your health insurance will pay for doctor's bills, medications and surgeries. None of these is designed to do what you really need, though – replacing your lost income to ensure that you're able to meet your financial obligations.
We Help You Make an Informed Decision about Anesthesiologist Assistant Disability Insurance
Our goal is simple – we want to ensure you have the financial stability you need. We work with insurers across the nation to provide high-income professionals like you with the protection that only anesthesiologist assistant disability insurance can deliver. When you work with us:
You'll be able to review rates from the leading providers of individual disability insurance to make an informed comparison and a sound decision.
We quote all the major disability insurance carriers, so you'll have many quotes to compare to ensure that you're getting the best possible coverage, at a rate that's right for you.
We'll help you learn more about the options available to protect your nurse anesthetist income to ensure that you get the peace of mind and financial stability that you deserve.
Rate Chart
When you review disability insurance policies, it's important to understand what medical specialty you are being classified as. If you are an anesthesiologist assistant, is the insurance company classifying you as such or as the specialty you work in? The difference in rates can be substantial between the two so it's important to be classified in the correct category.
How much coverage do you need?
The first step to finding out how much coverage you will need is to determine the minimum amount necessary for your living expenses monthly. Then, determine the other sources of your monthly income without your salary. Other sources of income could be your employer's group disability insurance, your savings, etc.
The coverage of your anesthesiologist assistant disability insurance policy should be close to the difference between the monthly expenses and expected income. It's the amount that should be replaced by the monthly benefit from your individual disability insurance.
Anesthesiologist Assistant Disability Insurance Policy Details
It's not easy to choose the most suitable disability insurance policy that will protect your income should you become disabled by illness or injuries. Insurance companies offer different versions of disability insurance that they consider would be most attractive to their target consumers.

We can help you find the coverage you need and the insurance provider that will bring you the best coverage options, so don't hesitate to reach out to us.
Buy a Disability Insurance Policy While You're Young
One of the primary factors that contributes to being market as a higher risk person is age. Getting disability insurance when you're young, say before age 30, not only gives you peace of mind, you will be paying a lower premium than when you buy at age 35 or older. This is mainly because disability insurance policies are priced based on the risk of you filing an insurance claim and age comes with an increased risk of illness. The higher your risk for filing a claim, the more you'll pay.
If you do buy coverage when you're starting out in practice, it's advisable to get a policy with a future purchase option, sometimes referred to as a future increase option, a future insurability option, or a benefits update rider.
Look for Unisex Rates
Women pay higher disability insurance rates than men because they are more likely to develop a disability that prevents them from being able to work full time. For women, rheumatism and arthritis are the most common disabilities they encounter. Cancer, heart disease, mental health, and diabetes are also some other leading causes of disability in women.
Women have also reported that experiencing a disability would be "somewhat devastating" to their family's finances. Many of the participants in the study said they worry that their cash reserves would last less than a month if they couldn't work.
What Types of Disabilities Might Affect You?
When most people think about disabilities, they immediately picture the lingering effects of serious automobile or motorcycle accidents. Those are factors, but there are other, more insidious threats. For instance, back injuries, cancer, heart disease, and other illnesses cause the majority of long-term disability. In fact, if you're around the age of 40, your chances of experiencing a disability prior to age 65 that lasts three months or longer are 21% or approximately 1 in 5. Those are high odds – is gambling with your family's financial future worth it?
Let us help you find disability insurance information, coverage, and rates that fit into your overall financial plan and anesthesiologist assistant income. Contact us at 1-877-221-6198 or use the form on the right to request a quote, get answers to your questions, and find the right policy.
Related Posts: