Your Bricklayer Income Matters
As a bricklayer, you may work in any number of specialty areas, from landscaping to general construction. You might work as a subcontractor, or even own your own business. In addition, you probably earn a salary that falls between $24,000 and $70,000 per year.
Out of that, you need to pay for business expenses if you own your own company, and you need to ensure that your family's financial obligations are met, such as paying your monthly mortgage payment, car payments, health insurance payments, and more. That's a lot of financial responsibility, and just a few weeks out of work could spell disaster.
Being left with no income to rely on for several months while you're recovering can be devastating to your financial stability. Bricklayer disability insurance can help you avoid that fate.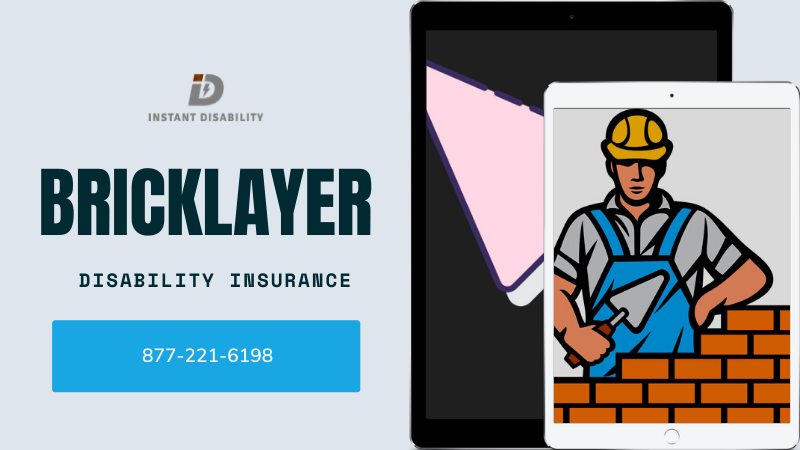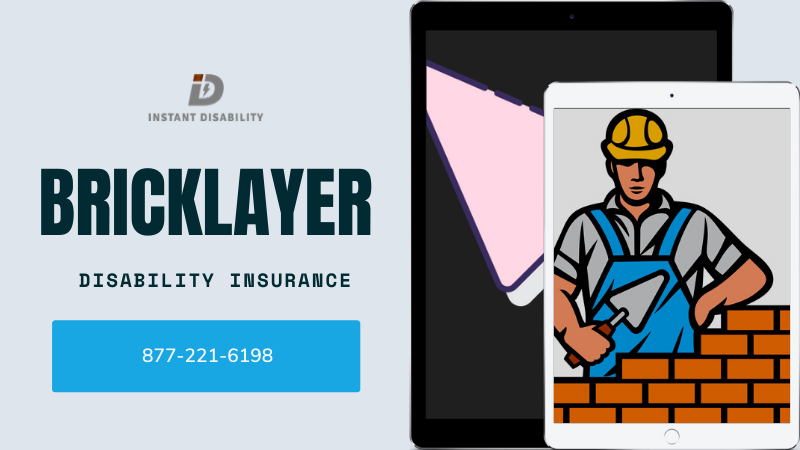 Who Needs Disability Insurance
Disability insurance is an important asset to have in your life, regardless of your profession or income size. However, having bricklayer disability insurance is that much more important if:
You're the breadwinner of the family
You have a debt to pay off
Your employer doesn't provide any or provides only limited coverage
You're self-employed
Getting disability insurance can help you offset some of the risks your job carries. It will protect your financial stability and give you a source of income if you're unable to produce one yourself.
Why You Need Protection from Disabilities
While you might not think it, more and more workers are becoming disabled. One-third of all American workers will experience a disability before they retire. In fact, you have a 21% chance of experiencing a disability that lasts for three weeks before you reach 65 just by being near 40 years of age.
You can even be injured while doing simple yard work at home, or while doing some sports activity. Injuries and illnesses don't wait, and we are all under risk.
Other factors – exercise, diet and nutrition, predisposition and the like just increase your chances of developing a health condition that puts you out of work for several weeks, or even months. Purchasing bricklayer disability insurance helps you protect your financial stability.
Insurance Protection
It's tempting to think that you'll be protected in the case of a disability. After all, you already pay for health insurance, plus a number of other types of insurance. Sadly, disability coverage is usually not included in these, and you likely don't have it through the workplace, either. That leaves you completely unprotected if the worst should happen.
Bricklayer disability insurance ensures that should you be disabled and out of work for a period of time, you have a stream of income to meet your financial obligations. It's generally a percentage of your monthly income and can provide not just peace of mind, but financial security in a trying time.
Understanding How It Works
Bricklayer disability insurance goes into action when you are forced to miss a specific amount of time on the job and experience a qualifying disability. In that case, your insurer will pay you a monthly amount based on your average annual earnings, which is called the benefit. You can choose a higher or lower benefit, but it's important to make an accurate, informed comparison of your options before you buy a policy at all.
We can help you make that comparison – we'll help you review disability insurance rates and costs, covered items, insurer reputations, disability definitions, and more.
How Disability Insurance Policy Premiums Are Calculated
Every insurance company ranks the factors to determine the cost of a policy – age, gender, income, the health of the individual, location, and specialty. Each factor has specific criteria and formulas that determine the overall cost of the occupational disability insurance, so before you settle for a certain insurance policy, check with all providers to make sure you chose the right one.
Why Choose Us
Of course, you need to work with the right insurer and we can help you make an informed choice about which insurance company can give you the proper conditions. With our help, you can:
Review rates from the leading providers of disability insurance to make an informed comparison and a sound decision.
Compare quotes from different insurance providers to ensure that you're getting the best possible coverage, at a rate that's right for you.
We'll help you learn more about the disability insurance options available to protect your income to ensure that you get the peace of mind and financial stability that you deserve.
Buy a Disability Insurance Policy While You're Young
Disability insurance policies are priced based on the risk of you becoming injured and filing an insurance claim. The higher your risk for filing a claim, the more you'll pay in premiums, and one of the main factors that determine if you will be marked as a higher risk person is your age.
Statistics show that the older you are the more likely you to become disabled, so getting your disability insurance today means that you will pay less in premiums and be protected for longer in your lifetime. Each year you age is more money you'll be paying out each month or year in premiums.
If you are ready to discuss your financial stability, we invite you to get in touch with us today by calling 1-877-221-6198 or using the form on this page.