Why Editor Disability Insurance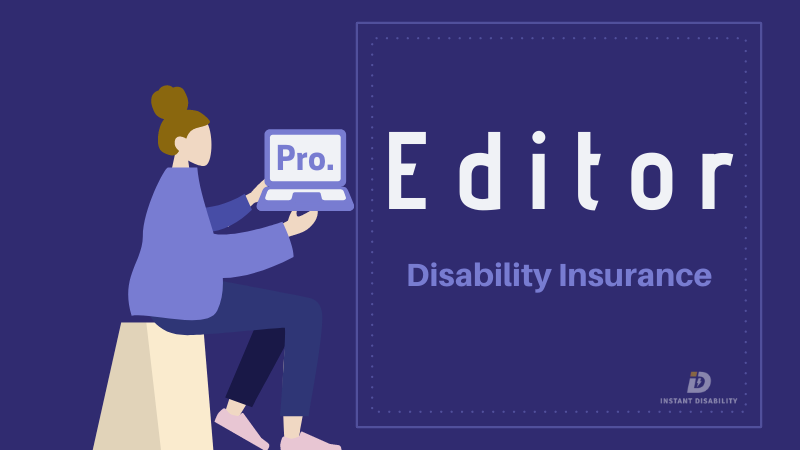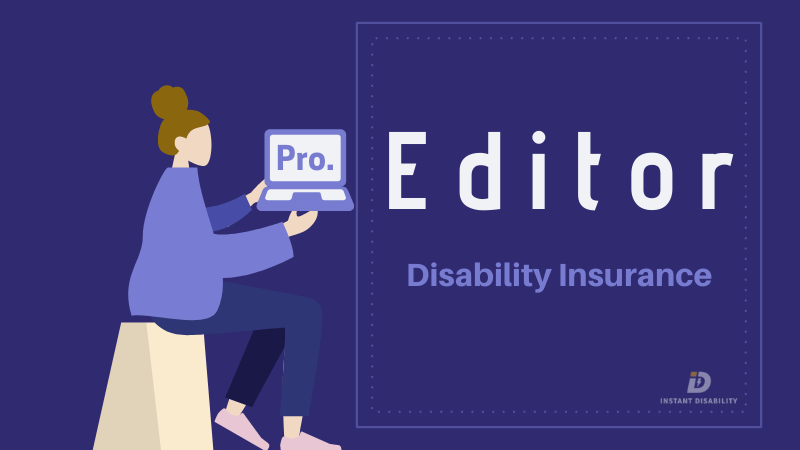 As an editor, you help ensure that the written word comes through loud and clear, and is perfectly legible. You probably earn somewhere between $30,000 and $71,000 per year, as well. Of course, you have several ongoing expenses that must be paid with that salary.
You'll have a mortgage payment, at least one or two car payments each month, insurance costs, and more. You may have business-related costs, too, if you're a freelancer. How would you weather the storm if you were unable to work, though? Editor disability insurance can give you the breathing room you need.
Leading Causes of Disability
What would you assume were the leading causes of disability? For most Americans, the assumption is that only physical injuries can prevent you from working. While physical injuries do play a role, most people who experience disabilities are affected by medical conditions, instead. These include conditions as wide-ranging as cancer, arthritis, heart disease, diabetes, and many more. In fact, up to one-third of the working population in the US will be disabled through a medical condition before they reach retirement age. Editor disability insurance can help if you find yourself amongst them.
You're Not Protected Currently
Do you need disability insurance? Aren't your risks covered by workers' compensation insurance? If you're injured on the job site, then you are probably covered, but what about injuries that occur at home, while you're in town, or when you're traveling? What about illnesses like cancer and heart disease? These are actually the leading causes of disability in the US, but they are sadly not covered with health insurance or worker's compensation.
Realizing the importance of having editor disability insurance is only half of the equation. You also need to find the right policy for your needs. That involves making an informed comparison between your options, which can be difficult or even impossible. We can help.
How much coverage do you need?
The first step to finding out how much coverage you will need is to determine the minimum amount necessary for your living expenses monthly. Then, determine the other sources of your monthly income without your salary. Other sources of income could be your employer's group disability insurance, your savings, etc.
The coverage of your disability insurance policy should be close to the difference between the monthly expenses and expected income. It's the amount that should be replaced by the monthly benefit from your individual disability insurance.
How Disability Insurance Rates Are Formed
Insurance companies group occupations into specific classes based on documented risk for a particular job. These classes look at the hazards of your job and the difficulty returning to work following a long or short-term disability. Besides the estimated hazards at work and how difficult it would be to return to work, other factors are considered as well, such as your age, health condition, family history, and other factors.
There are several complications here, the most important of which is choosing the right insurance company and the right disability insurance policy for your unique needs. We can help you identify those needs and then compare offerings from top-ranked insurers in the US to find the perfect protection level.
How Can We Help?
When you come to us for help with disability insurance, we go to work on your behalf immediately. We work with leading insurance professionals throughout the country to make sure you find the coverage you need. With us, you can:
Review rates from some of the leading providers of individual disability insurance throughout the US.
Get quotes from all major insurers in the US that currently offer disability insurance products in your specific geographic area.
Learn about your options regarding editor disability insurance and how it can benefit you if you're injured and unable to work.
Look for Unisex Rates
In general, women pay higher disability insurance rates than men. A recent study has shown that women are more likely than men to develop a disability that prevents them from working full time. Rheumatism and arthritis are the most common disabilities women encounter, followed by cancer, heart disease, mental health, and diabetes.
Women have also reported that experiencing a disability would be "somewhat devastating" to their finances. Many of the study participants said they worry that their cash reserves would last less than a month if they couldn't work.
Why You Need Compare Different Rates
With disability insurance, you'll enjoy an ongoing stream of income from your insurer if you experience a qualifying disability. You can use that income to meet all of your financial obligations.
However, you need to do more than just study out of pocket costs when you compare editor disability insurance quotes. When you compare quotes, consider things like the stated minimum and maximum benefit percentage, the optional coverage items, and even the company's reputation for customer service.
Short Term and Long Term Disability Insurance
When you purchase disability insurance, you can choose a short term or long term disability insurance. Short term disability insurance is a policy that will provide coverage if you're unable to work for a short period, typically several months. On the other hand, long term disability insurance policies provide coverage if your disability and/or illness prevents you from working for a longer period, usually several years.
We Help You Find Coverage
It can be difficult to find the protection you need, but we can help. When you turn to us for help with your disability insurance, we make sure to include you in every step of the process. We work with you so you can understand not just the insurer options, but also your options in coverage terms and other considerations.
With our assistance, you can compare quotes and coverage options from top-ranked insurers across the United States. We also give you the ability to compare all major insurance companies in the US, compare disability insurance rates and costs, and even compare disability definitions. Our sole goal is to help you make the best decision and get the protection that you need.
Get in touch with us today by calling 1-877-221-6198 or using the form on the right side of the page.