Have you ever stopped to think how much your lifestyle would change if you were unable to work? Facing the fact that a disability could happen to anyone at any time is difficult but necessary. The financial loss caused by a disability can be devastating. Even high-net worth individuals can struggle to make ends meet if their primary source of income is eliminated, even if only on a temporary basis.
Executives, professionals, self-employed individuals, doctors and dentists all have more to lose then the median income maker. The average Social Security Disability income payment is $1,146 monthly. For most high-income earners, this amount would not come close to meeting their monthly financial obligations.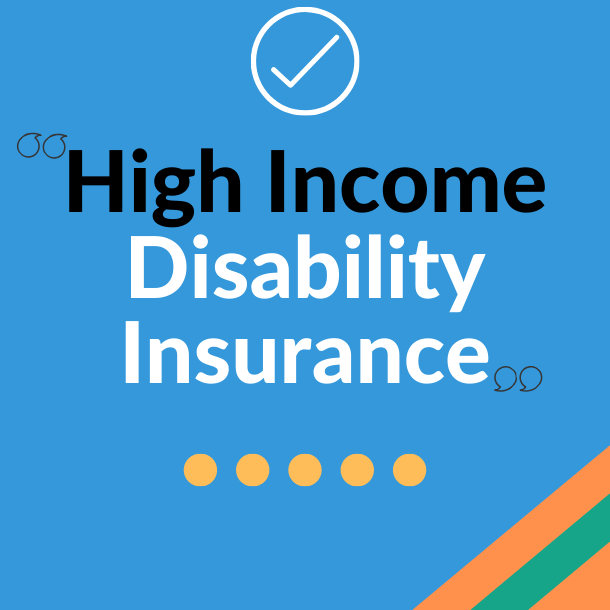 The solution is high income disability insurance. It works similarly to other types of disability insurance, and is designed to protect you and your family in the case that your primary source of income is disrupted due to a disability or injury.
Many high-net worth individuals assume that their financial needs would be covered by workers' compensation insurance, but what if your disability does not stem from an accident that occurred in the workplace? Others feel that their health insurance would cover their needs, but this is also not entirely true. Yes, your health insurance will pay for medical treatments, medicines, and the like, but what about replacing the income lost during an extended leave from your job? Health insurance does nothing to help pay utilities, mortgage payments, auto loan payments, or to meet your other financial obligations.
Just as your income is higher than the national average, so too are your financial obligations. This means that bills can mount much more quickly once your primary source of income is eliminated, and if a disability were to prevent you from working for six months, or a year, what then? Even for those with significant financial means, that can be a serious challenge. Your family could face financial destitution if there is no way to replace at least a portion of your income. High income disability insurance is designed specifically for the needs of high-net worth individuals.
With high income disability insurance, you can enjoy peace of mind, knowing that your family's quality of life and financial stability will not be jeopardized if you experience a disability that eliminates some or even all of your income.
Our agency represents over 500 carriers. We can search the market for the least expensive options that provide solid contractual features for our clients. On average, most consumers save 30% when they use our agency to search all major carriers in their state. Call us today at 1-877-221-6198 to receive an unbiased evaluation of insurance offerings available.