If you're an optometrist, your income is most likely very important for your family's monthly budget. Losing it will surely cause budgeting problems for you and your family, so securing it with an optometrist disability insurance is the right choice to make today.
What Is Optometrist Disability Insurance?
Optometrists enjoy a nice income in exchange for their expertise and disability insurance is a safety net that protects this income. It ensures that if you're out of work for weeks or months, you will be protected. After a specified period of time, your insurance policy will begin paying you a percentage of your monthly income. You can use that money to meet any sort of financial obligation you might have, whether that's catching up on your mortgage payments, or paying your practice's employees.
Why Choose Optometrist Disability Insurance
Helping patients find positive health outcomes when it comes to their vision is a rewarding benefit of your profession. You also likely enjoy a good income that ranges from $60,000 to $120,000 per year depending on a number of factors.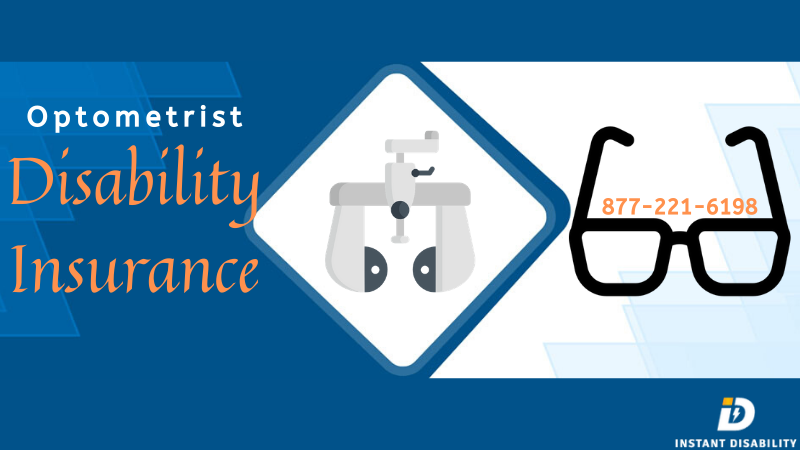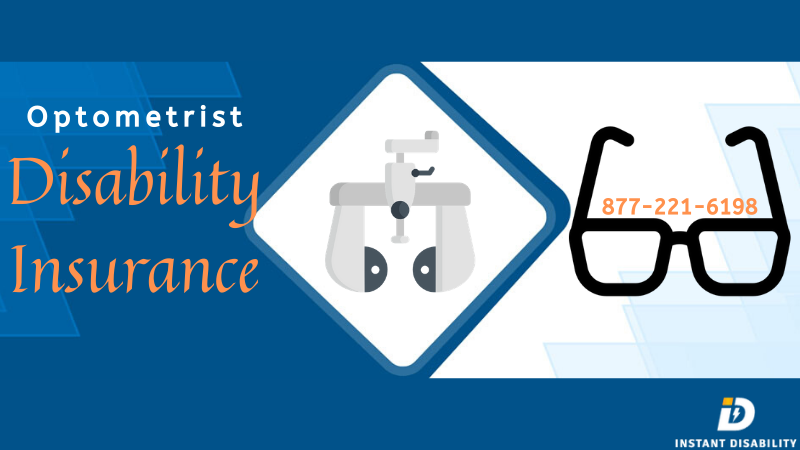 Of course, you'll need that income to pay for your home, your cars, even your children's education. You may even need it to support your optometrist practice. What would happen if the worst occurred, and you weren't able to work, though? That income would disappear. Optometrist disability insurance offers security against this outcome.
It's important to understand the role that optometrist disability insurance plays – it's designed to provide you with financial coverage if you find yourself out of work due to an injury or illness.
Disability and You
You might not think it, but you're at significant risk of experiencing a disability. If you're around the age of 40, you automatically have a 21% chance of being disabled for at least three weeks before you turn 65. Now, add to that health factors, lifestyle factors, and predispositions, and you begin to see the real situation. The good news is that optometrist disability insurance can help mitigate those risks.
Moreover, according to the Council for Disability Awareness, 90% of the disabilities happen because of an illness, not an accident at work, so often times workers' compensation is not a good enough safety measure to protect your income. However, adding optometrist disability insurance to it can be acceptable protection as you will be protected in both your work post and outside of it.
Worker's Compensation Is Not Enough
You may think that worker's compensation will protect you if you become disabled, but in fact, it doesn't provide the coverage you need. It will only cover your medical costs, doctor's visits, surgeries, and rehabilitation costs for injuries that happened in your workplace, but not those that happened outside of it. Your health insurance and auto insurance won't provide a replacement for your lost income either, so you would be left with no way to pay for your regular living expenses.
Optometrist Disability Insurance is designed to help you in these cases. If you're unable to work for a certain period of time, your insurer will pay out a certain percentage of your salary as compensation for the lost income you have while being unable to work.
Occupational Insurance
When you look for an optometrist disability insurance you need to make sure that it will protect your working specialty primarily. Because you're working a specialty you've invested years to develop and study, you should get an "own occupation" policy that will provide benefits if you're unable to perform the specific optometrist duties your job involved.
We can help you find an insurance provider that offers the right set of conditions for your own occupation policy. We work with hundreds of insurance companies across the country so we can find the one that is the closest to you.
Ranking Chart
Every insurance company ranks the factors to determine the cost of a policy – age, gender, income, the health of the individual, location, and specialty. Each factor has specific criteria and formulas that determine the overall cost of the occupational disability insurance, so before you settle for a certain insurance policy, check with all providers to make sure you chose the right one.
When you turn to us for help with your optometrist disability insurance, we make sure to include you in every step of the process. We work with you to understand not just the insurer options, but also your options in coverage terms and other considerations.
How To Get The Right Disability Insurance Policy
The challenge with optometrist disability insurance is finding the right insurer and the right policy for your needs. A disability can happen at any time, now or in 10 years, so it's important when choosing your insurer to have one that has the financial stability and power to weather difficult economic effects.
We can help here. We specialize in helping medical professionals like you find the right disability insurance policy to fit your unique needs. When you work with us, you will be involved in every step of the process to make sure you understand everything and are completely happy with what is offered to you.
Why Choose Us
Our years of experience in this area allows us to quickly find the coverage you need to ensure your financial stability and peace of mind. Our skilled professional work tirelessly round the clock to find the best insurance providers with rates tailored to your financial and personal needs, to ensure you get a tailored-made disability insurance policy.
With our help, you can:
Review rates from the leading providers of individual disability insurance to make an informed comparison and a sound decision.
We quote all the major disability insurance carriers, so you'll have many quotes to compare to ensure that you're getting the best possible coverage, at a rate that's right for you.
We'll help you learn more about the options available to protect your income to ensure that you get the peace of mind and financial stability that you deserve.
Ready to get the protection and peace of mind you need? Call us today at 1-877-221-6198 or use the contact form on this page to get in touch with us.