Why You Need Osteopath Disability Insurance
If you're a licensed osteopath, you likely enjoy a significant income – it can range from $70,000 to $290,000 per year. That income is responsible for paying a significant portion of your family's financial obligations, and it also supports your practice. You surely have mortgage and insurance, auto payments, and tuition for your children's school, as well as business costs, licensure expenses, ongoing education costs, and more to deal with. What happens if that income disappears, though? Just a short time of being unable to work could spell serious trouble, but osteopath disability insurance can protect you.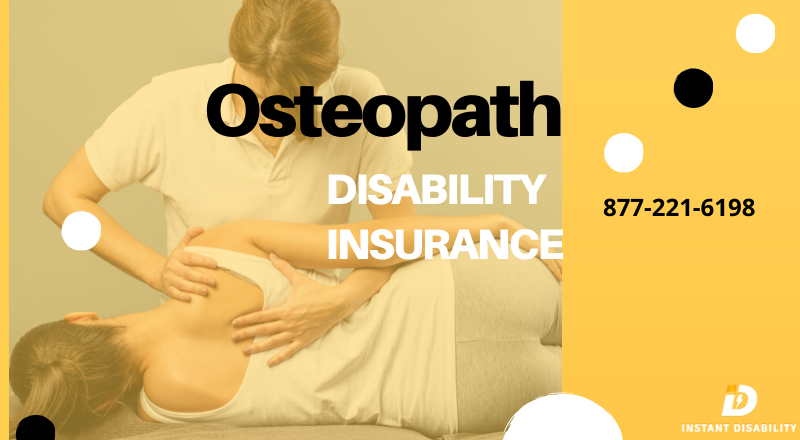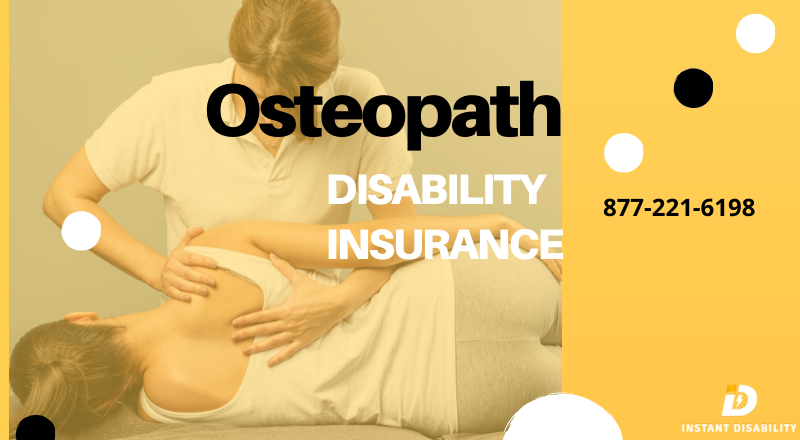 That's exactly what can happen with a disability, so it makes sense to protect your quality of life with osteopath disability insurance.
How Does Disability Insurance Work?
Understanding how disability insurance works is an important first step toward gaining the protection you and your family need. Once you experience a disability and miss a specified amount of time, your insurer will begin paying you. These payments are all based on your actual earnings and can be used for anything you need, from making your car payment to paying for your children's education.
Will You Be Disabled?
No one wants to think about the possibility of experiencing a lasting disability. Even trained medical professionals tend to think that it won't happen to them. However, if you're around 40 years of age, there's a one in five chance that you'll experience at least one disability by the time you're 65, and that disability will last at least three weeks. The list of disability-causing injuries and illnesses continues to grow, as well. Back injuries, cancer, and diabetes are only a few of them. Others include heart disease and stroke, physical injuries, and more.
You could also be injured at home doing routine yard work, or on the way to work. In these cases, your worker's compensation, your health insurance, and your auto insurance will only provide limited coverage, but what you will need then is a replacement for your lost income. This can be provided only through osteopath disability insurance.
Insurance Protection
It's tempting to think that you'll be protected in the case of a disability. After all, you already pay for health insurance, plus a number of other types of insurance. Sadly, disability coverage is usually not included in these, and you likely don't have it through the workplace, either. That leaves you completely unprotected if the worst should happen.
Osteopath disability insurance ensures that should you be disabled and out of work for a period of time, you have a stream of income to meet your financial obligations. It's generally a percentage of your monthly income and can provide not just peace of mind, but financial security in a trying time.
Why Choose Us
Of course, you need to work with the right insurer and we can help you make an informed choice about which insurance company can give you the proper conditions. With our help, you can:
Review rates from the leading providers of disability insurance to make an informed comparison and a sound decision.
Compare quotes from different insurance providers to ensure that you're getting the best possible coverage, at a rate that's right for you.
We'll help you learn more about the disability insurance options available to protect your income to ensure that you get the peace of mind and financial stability that you deserve.
How Disability Insurance Policy Premiums Are Calculated
Every insurance company ranks the factors to determine the cost of a policy – age, gender, income, the health of the individual, location, and specialty. Each factor has specific criteria and formulas that determine the overall cost of the occupational disability insurance, so before you settle for a certain insurance policy, check with all providers to make sure you chose the right one.
Confused About What Disability Insurer To Choose?
The issue you'll encounter is this – it can be hard to make an informed choice when buying disability insurance. This is because insurers, insurance coverage, disability rates, and even covered items can vary dramatically. You need to make an accurate comparison of your options before buying a policy, and that's where we come in. We have years of experience in helping professionals like you find the protection they need for peace of mind and security.
We Will Guide You
In one survey, 45% of people who have individual disability insurance didn't know what their policy's definition of disability is. More than one half of them didn't know what percentage of their salary they would receive if they were injured and almost two-thirds of participants had postponed buying coverage so they could further study their options.
Our goal is to ensure that you're able to make an informed decision and obtain the disability insurance you need for peace of mind. We will work with you to make sure you are involved in every step of the process and understand everything about your osteopath disability insurance policy before signing your name on the dotted line.
Not sure how to choose the right osteopath disability insurance policy? Unsure of your options in insurers? We can help. Call us today at 1-877-221-6198 and we'll help you compare insurers, insurance policy quotes, and understand your options in coverage. You can also use the convenient form on this page to get in touch.