The Importance of Having a Painter Disability Insurance
As a painter, you help your customers beautify their homes and businesses, and in exchange, you earn somewhere between $20,000 and $74,000 per year. That income is a vital part of creating your family's financial stability – what would happen if your ability to earn was limited or erased by an illness or injury? Painter disability insurance can help offset that risk.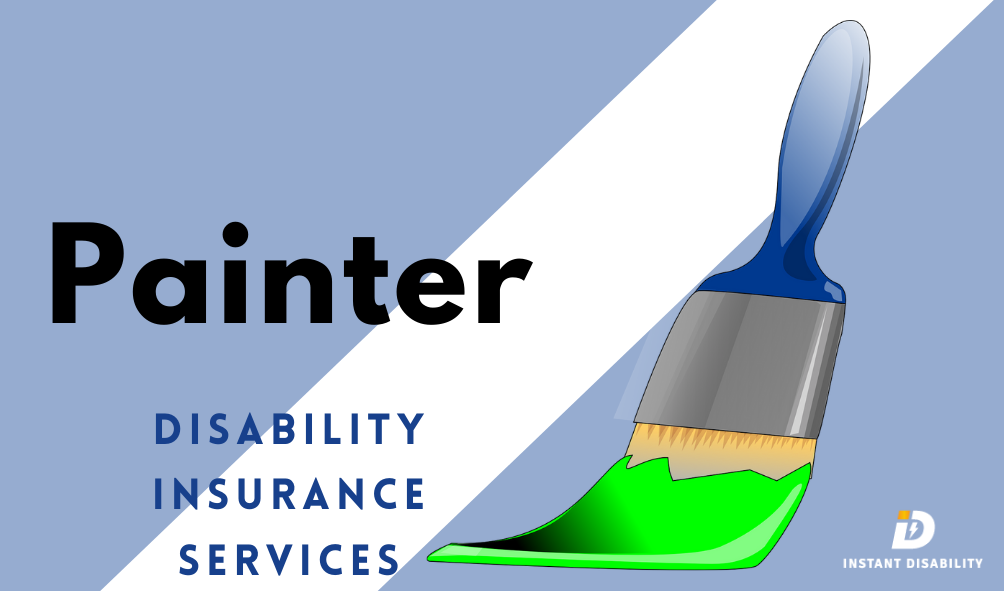 Your Risks of Disability
Most people don't believe they are at much of a risk for disability because they are not in a high-risk occupation or do not participate in high-risk activities. However, the problem is that most disabilities are not related to injuries sustained on the job or through recreational activities, but related to medical conditions and diseases. Cancer, arthritis, diabetes, and back pain are some of the most common ones, and you cannot prevent these from affecting you – they're largely outside of your control.
Ultimately, up to one-third of working Americans will be disabled before they reach retirement age. The risk of these diseases and conditions is the main reason why you need disability insurance.
Your Job Affects Your Rates
As a painter, your most valuable asset is your arms. You use them to do your work, so if you injure them, you won't be able to keep working and producing a profit. This is a concerning fact considering more than half of the broken bones in adults in the US happen to arms. You have to be prepared and protect your income, and this can be done only through disability insurance. Get painter disability insurance today and protect yourself against these risks.
How Painter Disability Insurance Protects You
Painter disability insurance offers the protection and peace of mind that you need. This type of insurance comes into play when you've been out of work for a specific amount of time due to a qualifying disability. The insurer will then begin paying you a portion of your regular monthly income, which you agreed to when purchasing your insurance policy. That money can be used for whatever you need, whether that's catching up on mortgage payments, or replenishing your savings.
Finding the right painter disability insurance policy is the hardest part. This is because insurers vary significantly, and many do not even have the same definitions of what constitutes a disability. We can help you make an informed choice by giving you the ability to compare insurance offerings from top-rated companies in the US. We can also provide expert guidance and help you chart a path forward.
How much coverage do you need?
The first step to finding out how much coverage you will need is to determine the minimum amount necessary for your living expenses monthly. After you've found the amount of money you need per month, you should add the other sources of your monthly income without your salary, such as an employer's group disability insurance, savings, etc.
The coverage of your painter disability insurance policy should be close to the difference between your monthly expenses and your expected income. It's the amount that should be replaced by the monthly benefit from your painter disability insurance.
Why Choose Us
We want to ensure you have the financial stability you need, which is why we work with insurers across the nation to give you the protection you deserve. When you work with us:
You'll be able to review rates from the leading providers of individual disability insurance to make an informed comparison and a sound decision.
We quote all the major disability insurance carriers, so you'll have many quotes to compare to ensure that you're getting the best possible coverage at a rate that's right for you.
We'll help you learn more about the options available to protect your income to ensure that you get the peace of mind and financial stability that you deserve.
Buy a Disability Insurance Policy While You're Young
Disability is not something we regularly think about, especially young professionals. There are more enjoyable things to spend money on, and many are reluctant to buy a disability insurance policy. However, we have to be aware that an illness or injury can happen to anyone at any time, so we must be prepared for it.
Plus, getting disability insurance when you're young means that you will be paying a lower premium than you would pay at age 35 or older. This is mainly because disability insurance policies are priced based on the risk of you filing an insurance claim. Age comes with an increased risk of illness, injury, or a similar disability. And the higher your risk for filing a claim, the more you'll pay.
We Will Guide You
In one survey, 45% of people who have individual disability insurance didn't know their policy's definition of disability. More than one half of them didn't know what percentage of their salary they would receive if they were injured, and almost two-thirds of participants had postponed buying coverage so they could further study their options.
Our goal is to ensure that you're able to make an informed decision and obtain the insurance you need for peace of mind. We will work with you to make sure you are involved in every step of the process and understand everything about your painter disability insurance policy before signing your name on the dotted line.
Of course, finding the right painter disability insurance is not as simple as it sounds. It would be best if you made an informed comparison of the insurers available to you, their insurance products, disability definitions, and more. We can help you do that. Our goal is to ensure that you're able to make the best choice possible when it comes to purchasing disability insurance. Call us today at 1-877-221-6198 or use the form on this page to learn more.