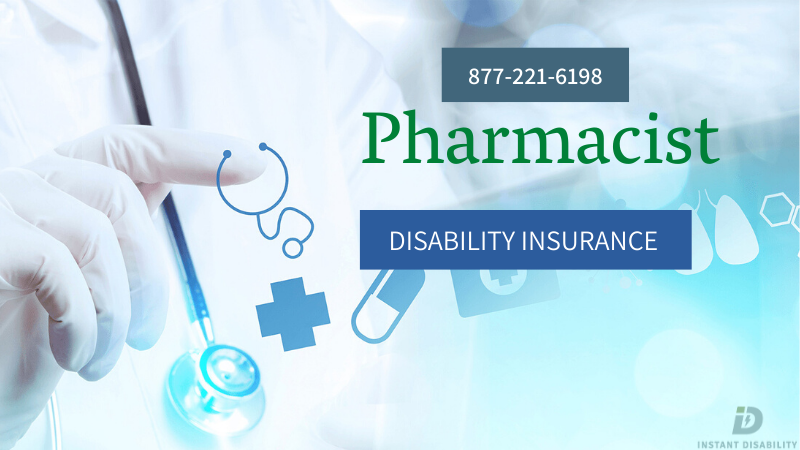 Why Pharmacist Disability Insurance?
As a pharmacist, you're responsible for helping provide positive health outcomes for the patients who come to you. You also earn a substantial income – you probably bring home between $60,000 and $130,000 per year.
You use that income to support your family. You may even use it to support your pharmacy. What would happen if your income were to disappear, though? Will you be able to keep up with your regular monthly costs? Pharmacist disability insurance can help alleviate that possibility.
Disability Is Always a Possibility
Most of us don't like to admit it, but we're all at risk for disabling injuries or illnesses. If you're around the age of 40, you automatically have a one in five chance of experiencing a disability that lasts at least three weeks before you turn 65. Now, imagine how much greater that risk is when you add in lifestyle and health factors, or genetic predispositions. While there may be little you can do to remove the risk of becoming disabled…
What Disability Insurance Does
You may think that worker's compensation will protect you if you become disabled, but in fact, it doesn't provide the coverage you need. It will only cover your medical costs, doctor's visits, surgeries, and rehabilitation costs for injuries that happened in your workplace, but not those that happened outside of it. Your health insurance and auto insurance won't provide a replacement for your lost income either, so you would be left with no way to pay for your regular living expenses.
Disability insurance is designed to provide you with ongoing financial support if you find yourself ill or injured and out of work for weeks or months. Every policy has different benefits and exclusions. After a specified period out of work, it will start providing you with a percentage of your annual monthly income. That money can be used for anything you need, from paying your home's electric bill to paying pharmacy staff.
How Your Work Impacts Your Disability Insurance Rates
Insurance companies group occupations into specific classes based on documented risk for a particular job. These classes look at the hazards of your job and the difficulty returning to work following a long or short-term disability.
When you review disability insurance policies, it's important to understand what medical specialty you are being classified as. The difference in rates can be substantial between, so it's important to be classified in the correct category.
Own Occupation and All Occupations
Remember how many years you've spent to become a pharmacist? Imagine after all those years of honing your skills you get injured and unable to perform your work tasks. This would be devastating not only emotionally, but also financially.
It's here that we see the importance of disability insurance, especially the own occupation insurance policies. It will provide you with monthly benefits in case your disability prevents you from doing tasks in your work field.
On the other hand, any occupation insurance policies will pay out benefits in case you are unable to perform any job, not only your own.
How Premiums Are Calculated
Every insurance company ranks the factors to determine the cost of a policy – age, gender, income, the health of the individual, location, and specialty. Each factor has specific criteria and formulas that determine the overall cost of the occupational disability insurance, so before you settle for a certain insurance policy, check with all providers to make sure you chose the right one.
When you turn to us for help with your disability insurance, we make sure to include you in every step of the process. We work with you to understand all your options in coverage terms and other considerations.
Why Choose Us
Of course, you need to work with the right insurer and we can help you make an informed choice about which insurance company can give you the proper conditions.
We specialize in helping medical professionals just like you compare insurance companies, insurance policies, and even specific coverage items to ensure that you can make an informed decision. With our help, you can:
Review rates from the

leading providers of disability insurance

to make an informed comparison and a sound decision.
Compare quotes from different insurance providers to ensure that you're getting the best possible coverage, at a rate that's right for you.
We'll help you learn more about the pharmacist's disability insurance options available to protect your income to ensure that you get the peace of mind and financial stability that you deserve.
Buy a Disability Insurance Policy While You're Young
The price of your disability insurance policy depends on the risk of you filing an insurance claim, and the higher your risk, the more you'll pay in premiums. One of the primary factors that contributes to being graded as a higher risk person is your age. Statistics show that the older you are the more likely you to become disabled.
You can buy disability insurance today and save money in the long-term. Each year you age is more money you'll be paying out in premiums.
Look for Unisex Rates
In general, women pay higher disability insurance rates than men. A recent study has shown that women are more likely than men to develop a disability that prevents them from being able to work full time and as a result, the premiums calculated for women are higher than the ones for men. Rheumatism and arthritis are the most common disabilities women encounter, followed by cancer, heart disease, mental health, and diabetes.
Women have also reported that experiencing a disability would be "somewhat devastating" to their family's finances. Many of the participants in the study said they worry that their cash reserves would last less than a month if they couldn't work.
Considering the fact that almost 60% of pharmacists are women, it's important to find rates tailored for your needs, and we can give you that.
Ready to get the process started? We invite you to call us today at 1-877-221-6198. You can also use the contact form on this page to get in touch with us.