Surgeons have very high incomes that may be difficult to replace with standard disability insurance policies that are available to most working professionals. In addition, surgeons often have higher expenses.
Why Surgeon Disability Insurance
As a surgeon, you must pay for your own education, and chances are good that you're also paying for your children's tuition at a high-quality school, and want to provide your family with the highest quality of life possible. With an average salary falling between $250,000 and $400,000 per year, surgeons need to protect their earning ability. Surgeon disability insurance can help you do this.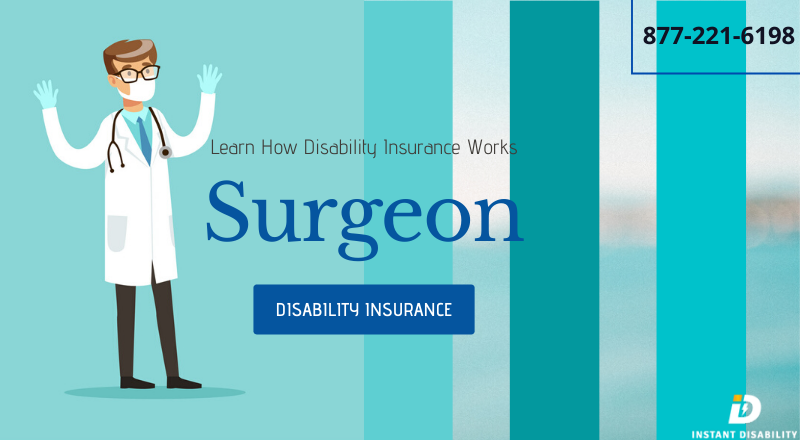 With surgeon disability insurance, you'll receive a percentage of your monthly income after a set period of time out of work. That money gives you the means to pay employees or office rent. It also ensures that you can pay your mortgage payment and car loan payments, and for anything else you need.
Disabilities and You
Think that you're not at risk of being injured and unable to work because you're not in a high-risk industry for injuries? That's not the case.
Most of us don't put a lot of stock in the idea that we could become disabled, but the fact is that nearly a third of the American workforce will find themselves unable to work at some point before retirement age. Those are long odds, and it does not make sense to gamble with your financial future. Heart disease, cancer, back injuries, diabetes, and accidents outside the workplace are just a few of the risks here. Surgeon disability insurance can help mitigate the situation.
How Disability Insurance Works
Disability insurance for surgeons works like any other type of disability insurance. If you are out of work for a specific period of time, your disability policy will kick in after you have met the provisions of your policy. It will pay you a percentage of your average monthly income, and you can use that money to pay for whatever it is that you need, from medical school bills to your home mortgage.
We Help You Make the Right Choice
Of course, the most difficult part of the process is finding the right disability insurance policy, but we can help. We'll help you compare surgeon disability insurance quotes, coverage areas, coverage amounts, insurance providers, and more. We have years of experience working with high-income medical professionals, and we want to ensure that you're able to enjoy the protection and peace of mind that you deserve.
Do you really need surgeon disability insurance?
The answer is a resounding yes. You could be injured at home doing routine yard work, or on the way to work. You could suffer from an illness like cancer and find yourself unable to work. Where would you turn for financial relief in those situations?
While you may think that other types of insurance protect your financial interest, they don't. For example, health insurance coverage only assists in medical costs in case of a disability. None of them provides a replacement of what you need most in those times – income. Only surgeon disability insurance provides this.
Occupational Insurance
As a surgeon, you have probably dedicated years in getting your doctor's degree and developing your surgical skills. The skills and knowledge you accumulate over the years are your specialties. When you look for a surgeon disability insurance you need to make sure that it will protect your working specialty. This can be done through an "own occupation" insurance policy that will provide benefits if you're unable to perform the specific duties your job involved due to an illness or an injury.
We can help you find an insurance provider that offers the right set of conditions for your own occupation policy. We work with hundreds of insurance companies across the country so we can find the one that is the closest to you and offers the best conditions fit for your needs.
How Your Disability Insurance Rates Are Calculated
When they give you a disability quote, insurance companies take into account several things, among which are the hazards on your workplace. Every job has some underlying risks of doing it, some more than others. Insurance companies group these hazards and take into consideration how difficult it would be for you to return to your job after a disability.
Then, they rank your basic characteristics – age, gender, income, your health, working specialty, and even where you live.
Once they determine your profile, insurance companies analyse you as a whole and determine the overall cost of your disability insurance policy.
Look for Unisex Rates
A recent study has shown that women are more likely than men to develop a disability that prevents them from being able to work full time and as a result, the premiums calculated for women are higher than the ones for men.
Women have also reported that experiencing a disability would be "somewhat devastating" to their family's finances. Many of the participants in the study said they worry that their cash reserves would last less than a month if they couldn't work. This is why it's important to have surgeon disability insurance and find a provider that will offer the same insurance rates for both men and women. We can help you find that.
Why Choose Us
The challenge with surgeon disability insurance is finding the right insurer and the right policy for your needs. A disability can happen at any time, now or in 10 years, so it's important when choosing your insurer to have one that has the financial stability and power to weather difficult economic effects.
There are many insurance companies out there, so it can be confusing to settle for the right provider, but we can help here. We specialize in helping medical professionals like you find the right disability insurance policy to fit your unique needs. When you work with us, you will be involved in every step of the process to make sure you understand everything and are completely happy with what is offered to you.
Ready to learn more or to start the comparison process? Call us today at 1-877-221-6198 or use the form on this page.
Related Posts: