Teacher Disability Insurance
As a teacher, you have a tremendous range of responsibilities centered on teaching America's youth. Chances are good that you earn somewhere between $24,000 and $67,000 depending on your training, specialty, or the school in which you teach. That money is necessary for many things – you need to pay your mortgage payment, for instance, but you also need to pay for classroom supplies and the like. What would happen to your ability to meet those obligations if you were out of work due to an injury or illness? Teacher disability insurance can be used to offset the ramifications of such an absence.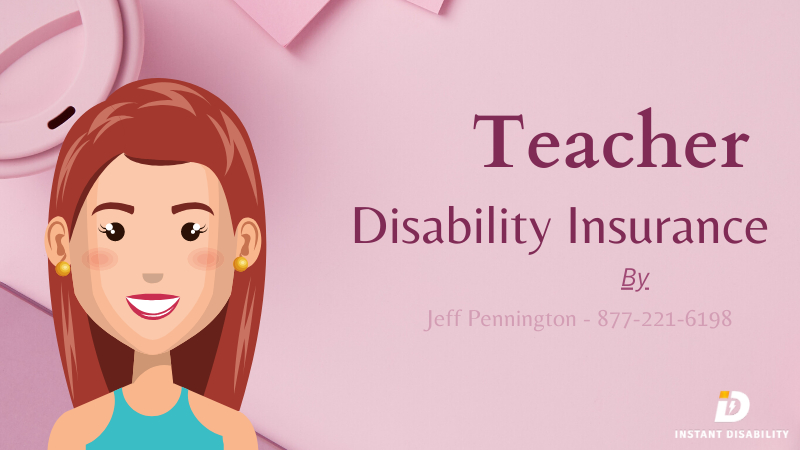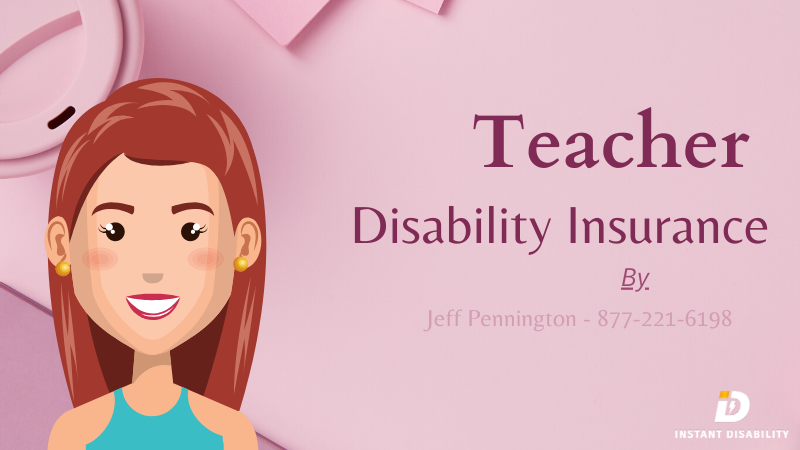 What's Teacher Disability Insurance All About?
Teacher disability insurance, like all other types of disability insurance, is about protecting your financial stability. If you're out of work due to an injury or illness, you're not being paid. Without your pay, you cannot meet your financial obligations – your mortgage payment doesn't disappear just because you are currently unable to work. Over a surprisingly short time, you could burn through your savings and fall behind on your bills. Teacher disability insurance helps ensure that it does not happen to you.
Who Needs Disability Insurance
Teacher disability insurance is a vital asset to have in your life, regardless of your profession or how high your income is. However, having disability insurance is that much more valuable if:
 You're the breadwinner of the family
You have a debt to pay off
 Your employer doesn't provide any or provides only limited coverage
 You're self-employed
Getting teacher disability insurance can help you offset the risks you're under and protect your financial stability by giving you a regular source of income if you're unable to produce one yourself.
The Potential for Disabilities
Think that you're not at risk for disability because you're young or you're fit and healthy? Sadly, anyone can be at risk for a disability – diseases and injuries are no respecter of persons, and your fitness or health level has little to do with your resistance to something like cancer or diabetes.
You could even be injured while doing simple yard work at home or coming down the steps. These injuries can be severe and prevent you from working for a while. The only solution in these cases is to protect yourself and your family from the potential outcome of such a situation – teacher disability insurance does that.
Your Financial Stability Is Not Protected
Although you may think you're protected by your worker's compensation and health insurance, they will only provide limited coverage if you become disabled. None of them will replace your lost income to ensure when your disabled, and that's what you will need to meet your regular financial obligations.
The only insurance that will help in these cases is disability insurance. If you become disabled, the insurance company will pay you the monthly benefits specified in the policy. You can enjoy your financial stability even though you're unable to go to work, thanks to your teacher disability insurance.
How Your Disability Insurance Rates Are Formed
Insurance companies group occupations into specific classes based on documented risk for a particular job. These classes look at the hazards of your job and the difficulty returning to work following a long or short-term disability. Besides the estimated hazards at work and how difficult it would be to return to work, other factors are considered as well, such as your age, health condition, family history, and other factors.
When you review disability insurance policies, it's essential to understand what specialty you are classified. The difference in rates can be substantial, so it's important to be classified in the correct category. We can help you get a better understanding of this process and find the rates you're most comfortable with.
Look for Unisex Rates
Statistics show that women are more prone to developing a disability that will prevent them from working full time. The most common disabilities women experience rheumatism and arthritis, but the more serious ones are cancer, heart disease, mental health, and diabetes. As a result, the premiums calculated for women's disability insurance policies are higher than those for men.
According to a study, women have stated that experiencing a disability would be "somewhat devastating" to their finances. Many also said they worry that their cash reserves would last less than a month if they couldn't work. This shows the importance of disability insurance and how it can help with a family's finances.
We Will Guide You
Our goal is to ensure that you're able to make an informed decision and obtain the insurance you need for peace of mind. We will work with you to make sure you are involved in every step of the process and understand your disability insurance policy before signing your name on the dotted line.
Finding teacher disability insurance is not hard, but finding the right policy can be quite challenging. We can help here.
We invite you to call us today at 1-877-221-6198 to learn more about your options or start the comparison process. You can also use the convenient form located on this page.