The Importance of Web Designer Disability Insurance
We're firmly within the digital age today, and every single business on the planet needs a web presence. That puts your web design skills in high demand. You can work with small businesses, focus on serving the needs of local firms, work with big businesses and more. As a web designer, you can earn somewhere between $24,000 and $65,000 per year for your efforts.
That income is needed to meet your personal and professional financial obligations. You'll need to pay your house and car payments, your utility bill and more. You'll also need to keep up to date on the latest design trends, software and the like. If you own your own design firm, you'll have business-related costs to consider.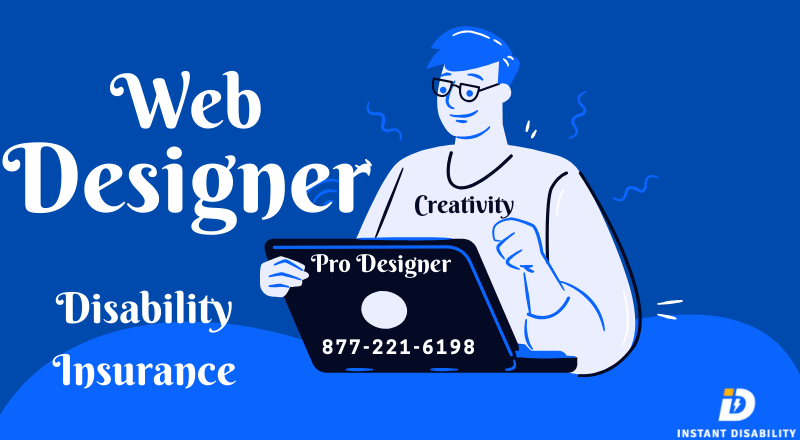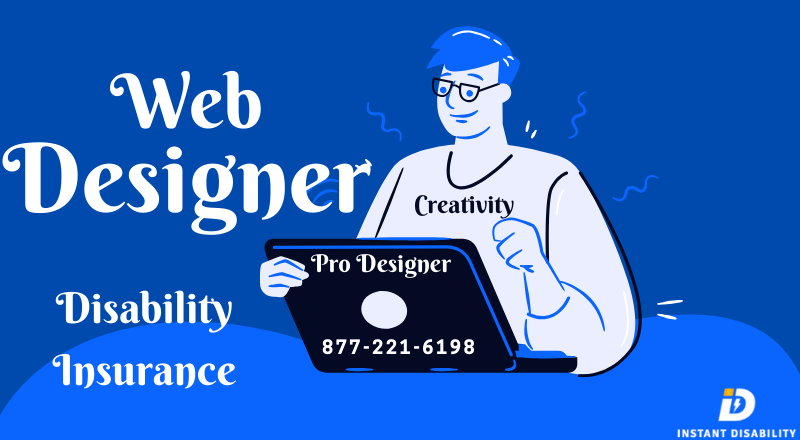 What happens to you if you're unable to meet those obligations because you're ill or have been injured, and can't work? Web designer disability insurance provides you with protection.
Why You Need Protection
Why do you need to be protected from disabilities? If you're like most people, you assume that disabilities really only affect those in dangerous occupations. Web design is anything but that. The truth is that medical conditions are actually the leading causes of disability in the US. Think heart disease, stroke, diabetes, and cancer to name just a few.
You are at risk for those, even if you're not in physical danger while on the job. Web designer disability insurance works to prevent you from suffering financial fallout if you cannot work because of a disability.
Do Other Insurance Policies Protect You?
You may think that health insurance is enough to protect you and your lifestyle should you become disabled or fall ill, but that's not the case. Health insurance provides a certain level of coverage, but it's limited only to the medical costs resulting from a disability such as doctor visits, rehabilitation costs, surgery, hospital stay and so on. However, you won't receive compensation for your lost income through your health insurance, so you won't have a way of maintaining your current lifestyle without your basic source of income.
None of the other types of insurance provides coverage for your lost income either. If you were to become disabled without a source of income, you would have no way of covering your rent, utilities, or other regular costs. But all of this can be solved with disability insurance. A web designer disability insurance policy will provide a replacement of a portion of your income if you're unable to work for a certain period of time due to an injury or illness.
Understand Web Designer Disability Insurance Policy Details
It's not easy to choose the most suitable disability insurance policy that will protect your income should you become disabled by an illness or an injury. Insurance companies offer different versions of disability insurance that they consider would be most attractive to their target consumers. Make sure to read and understand all provisions of your policy.
How much coverage do you need?
The first step to finding out how much coverage you will need is to determine the minimum amount necessary for your living expenses monthly. Then, determine the other sources of your monthly income without your salary. Other sources of income could be your employer's group disability insurance, your savings, etc.
The coverage of your disability insurance policy should be close to the difference between the monthly expenses and expected income. It's the amount that should be replaced by the monthly benefit from your individual disability insurance.
Why Choose Us
We work with one goal in our mind – to give you the financial stability you need and deserve. We work with insurers across the nation to provide high-income professionals like you with the protection that only disability insurance can deliver. When you work with us:
You'll be able to review rates from the leading providers of individual disability insurance to make an informed comparison and a sound decision.
We quote all the major disability insurance carriers, so you'll have many quotes to compare to ensure that you're getting the best possible coverage, at a rate that's right for you.
We'll help you learn more about the options available to protect your income to ensure that you get the peace of mind and financial stability that you deserve.
We Can Help You Find The Right Coverage
It can be difficult to choose the right web designer disability insurance policy, though. You need to make sure you've chosen the right web designer disability insurance policy, and that you're working with the right insurer. That's where we can help. We've spent years working with professionals just like you to ensure they can make accurate choices and decisions regarding their financial protection. We allow you to compare disability insurance quotes from leading US insurers, as well as insurance rates, coverage areas and more.
Buy a Disability Insurance Policy While You're Young
Disability is farthest from the mind of young professionals. They have more enjoyable things or activities to spend their money on but we have to be aware that an illness or injury can happen to anyone at any time.
One of the primary factors that contribute to higher risk is age. Getting disability insurance when you're young, say before age 30, not only gives you peace of mind, you will be paying a lower premium than when you buy at age 35 or older. This is mainly because disability insurance policies are priced based on the risk of you filing an insurance claim and age comes with an increased risk of illness. The higher your risk for filing a claim, the more you'll pay.
It requires time and effort to study and compare the various web designer disability insurance policies offered by various insurance companies. Let us help you find disability insurance information, coverage and rates that fit into your overall financial plan. Give Jeff Pennington a call at 1-877-221-6198 or use the form on the right to request a quote, get answers to your questions, and find the right policy.
Related Posts: